No software to download, no data to enter
Create public pools or password protected private pools
Use point spreads or pick straight winners (point spreads for football pools only)
Pool message board allows pool members to stay in touch or trash talk!
Automatic deadline enforcement with custom deadlines
Statistics and scoring automatically computed
Post news and other messages on your pool's home page
Personalize Your Pool with a Logo
Send group email to pool members
It's Easy To Play
Sign up for a FREE PoolHost Account!
Join a pool or create your own!
CREATE, MANAGE AND PLAY ON ANY DEVICE!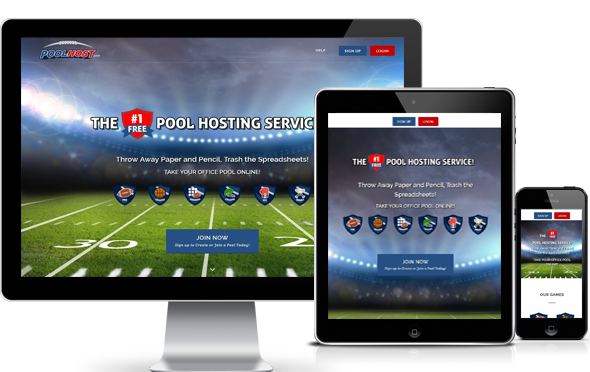 Online Office Pool with PoolHost. NFL, College Football, Home Run Derby, Super Bowl Squares, World Cup and more.
Are you looking to manage, play or your run your pool, in an office pool for NFL Football, College Football, Bowl Games, March Madness, College Basketball, UFC, or World Cup? PoolHost.com is a premier office pool website making creation, management, and playing extremely fast and easy. With no app to download, we are a fast, professional, and easy to use bet pool hosting experience tailored to your needs! Login or sign up today to learn why PoolHost.com is the best Office Pool website available.